Back
Grano Monococco, dicocco e grano duro
Grano Monococco, dicocco e grano duro: non hanno la frazione "33mer" considerata la più attiva nell'attivare la risposta avversa del sistema immunitario nei soggetti celiaci. Anche per questo motivo sono i genotipi più adatti per le ricerche che hanno come scopo di "detossificare" le farine o di intervenire con particolari enzimi per idrolizzare i "peptidi tossici" comunque presenti; sono più adatti anche per i soggetti sensibili al glutine NON celiaci.
"Quantitation of the immunodominant 33-mer peptide from α-gliadin in wheat flours by liquid chromatography tandem mass spectrometry.
Kathrin Schalk , Christina Lang , Herbert Wieser , Peter Koehler  & Katharina Anne Scherf. Scientific Reports volume 7, Article number: 45092 (2017).
Abstract
Coeliac disease (CD) is triggered by the ingestion of gluten proteins from wheat, rye, and barley. The 33-mer peptide from α2-gliadin has frequently been described as the most important CD-immunogenic sequence within gluten. However, from more than 890 published amino acid sequences of α-gliadins, only 19 sequences contain the 33-mer. In order to make a precise assessment of the importance of the 33-mer, it is necessary to elucidate which wheat species and cultivars contain the peptide and at which concentrations. This paper presents the development of a stable isotope dilution assay followed by liquid chromatography tandem mass spectrometry to quantitate the 33-mer in flours of 23 hexaploid modern and 15 old common (bread) wheat as well as two spelt cultivars. All flours contained the 33-mer peptide at levels ranging from 91–603 μg/g flour. In contrast, the 33-mer was absent (<limit of detection) from tetra- and diploid species (durum wheat, emmer, einkorn), most likely because of the absence of the D-genome, which encodes α2-gliadins. Due to the presence of the 33-mer in all common wheat and spelt flours analysed here, the special focus in the literature on this most immunodominant peptide seems to be justified……Omissis…..
Analysis of durum wheat, emmer and einkorn
The 33-mer peptide was also analysed in two durum wheat and two emmer cultivars (genome AABB) as well as two diploid einkorn cultivars (genome AA) (Table 1). In each of these wheat species, the 33-mer was not detected (<LOD). In comparison to hexaploid common wheat, durum wheat, emmer, and einkorn do not contain the D-genome, which originated from hybridisation of T. turgidum dicoccum (genome AABB) with Aegilops tauschii (genome DD)36. The absence of the 33-mer peptide can be explained by the fact that this peptide is encoded by genes located in the Gli-2 locus on chromosome 6D, which is missing in durum wheat, emmer, and einkorn. Studies by Molberg et al. showed clear variations in intestinal T-cell responses between common wheat and tetra- or diploid species due to different degrees of T-cell immunoreactivity between the gluten proteins encoded on the A-, B-, and D-genome. Einkorn cultivars were only recognized by DQ2.5-glia-α1a-specific T-cell clones, but not by DQ2.5-glia-α1b- and DQ2.5-glia-α2-specific T-cell clones. Emmer and durum wheat cultivars were all recognized by DQ2.5-glia-α1a-specific T-cell clones, but only two out of four emmer cultivars and three out of ten durum wheat cultivars activated DQ2.5-glia-α1b- and DQ2.5-glia-α2-specific T-cell clones37. Consistent with our results, Prandi et al.38 found that the 33-mer was not present in durum wheat. As a consequence, this peptide was used as a marker peptide to identify the presence of common wheat in durum wheat flours. One durum wheat cultivar was also analysed by van den Broeck et al.33 and the 33-mer peptide was not detected either". https://creativecommons.org/licenses/by/4.0/deed.it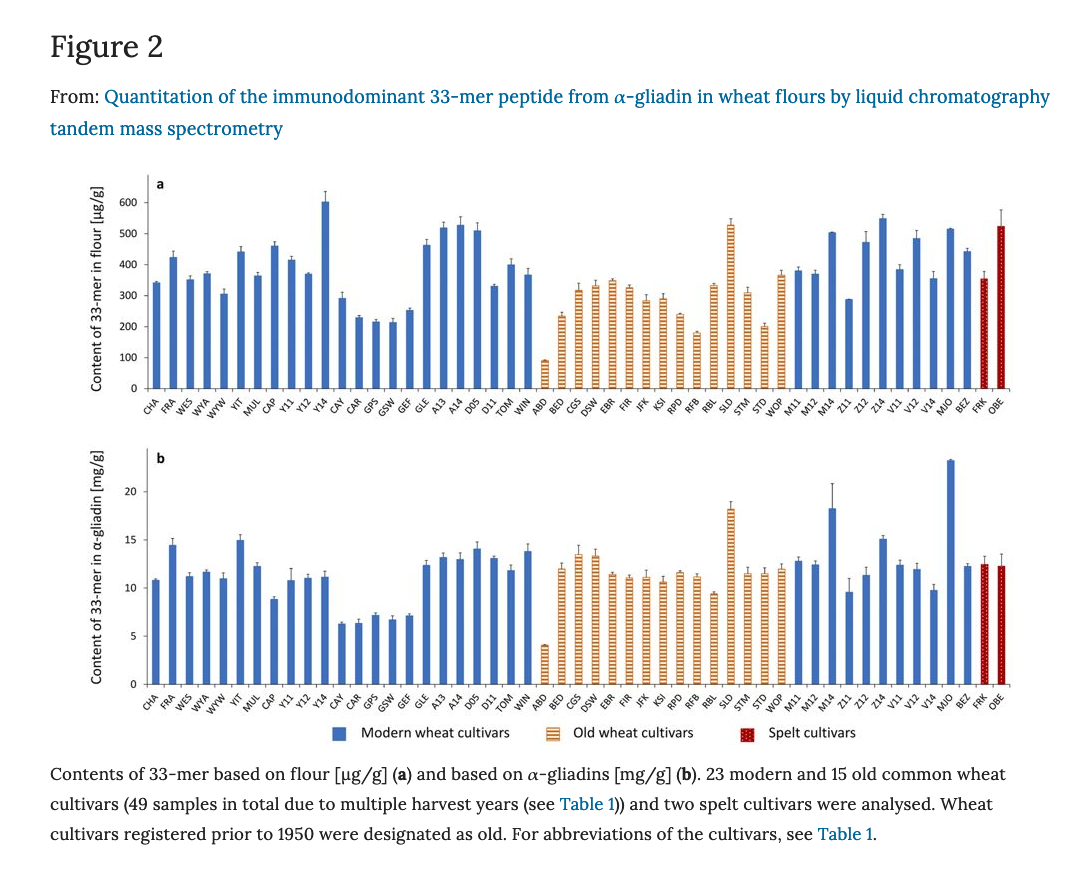 Back